Claire Cummings
Advisory Committee, Alum 2012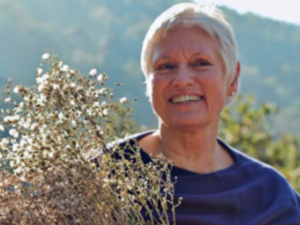 Claire Hope Cummings, M.A, J.D, is an environmental lawyer, journalist, and the award winning author of Uncertain Peril: Genetic Engineering and the Future of Seeds (Beacon Press) which won the American Book Award and the book of the year award from the Society for Economic Botany. Claire's stories focus on the environmental and political implications of how we eat and how food and farming reconnects us to each other, to the places where we live, and the extraordinary knowledge of land based peoples.
Claire has been active in the local food and farming movement in the San Francisco Bay Area, helping to found the Marin County food policy council, and serving on the boards of organizations such as Earth Island Institute, The Community Alliance with Family Farmers, Food First, and the Elmwood Institute—the predecessor organization for the Center for Ecoliteracy. Claire was awarded a Food and Society Policy Fellowship in 2001. She advised The Columbia Foundation's sustainable communities and food system programs for many years.
As a journalist, Claire was food and farming editor for KPFA-FM in Berkeley, Pacifica Network's flagship public radio station, for six years, hosting a weekly radio broadcast that including Eater's Digest and as a regular contributor to the popular drive-time Morning Show. She reported for other public radio networks and PBS television on KQED-tv. She has produced award winning radio broadcasts for National Radio Project. Her work is regularly published in print and on line publications. Claire has contributed to and been featured in books and films, including The Future of Food and Ripe for Change, nationally aired on PBS, and SEED: The Untold Story (2017).
As a lawyer, Claire has represented and advised environmental and native groups on environmental and cultural preservation throughout the U.S. In Hawai'i Claire represented the Halawa Valley Coalition and The Hawai'i La'ieikawai Association during the H3 litigation and founded the first native land trust in the islands, Hui Aina o Hana. Claire represented the original Apache Survival Coalition plaintiffs against the development of Mt. Graham in Arizona. Claire has worked extensively with the Winnemem Wintu Tribe in Northern California, establishing protection for their sacred sites with cultural conservation easements and negotiating a U.S. Forest Service agreement to protect Panther Meadows on Mt. Shasta. She has worked with other traditional native groups in New Mexico, Florida and elsewhere.
The Mesa Refuge
PO Box 1389
Point Reyes Station, CA 94956