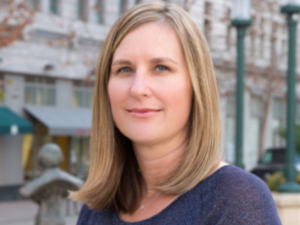 Aspen Baker is the leading voice in the nation on how to transform the abortion conflict. Her book, Pro-Voice: How to Keep Listening When the World Wants a Fight (Berrett-Koehler 2015) won the Independent Publisher's Association Bronze Medal for Current Events/Humanitarian Issues in 2016.
She was a finalist for the 2014 American Express NGen Leadership Awards; was called a "fun, fearless female" by Cosmopolitan in 2013; was awarded the Gerbode Professional Development Fellowship in 2012; was named a "Women's History Hero" in 2009 by San Francisco's KQED during Women's History Month; and was named "Young Executive Director of the Year" in 2005 by the Bay Area's Young Nonprofit Professionals Network. Aspen served on the City of Oakland's Public Ethics Commission 2011-2014.
As a spokesperson for Exhale, she has been featured by media outlets across the country, among them CNN Headline News, Fox National News, Ladies' Home Journal, Cosmopolitan, Glamour, the New York Times, National Public Radio, Newsweek, the New Republic, Alternet, and Bust. Her essay "My Abortion Brought Us Together" was included in the anthology "Nothing by the Truth So Help Me God: 51 Women Reveal the Power of Positive Female Connection." She often writes for sites like the Stanford Social Innovation Review and Huffington Post.
Aspen is a graduate of UC Berkeley, and she lives in Oakland, California, with her family.
Books written at Mesa Refuge
The Mesa Refuge
PO Box 1389
Point Reyes Station, CA 94956