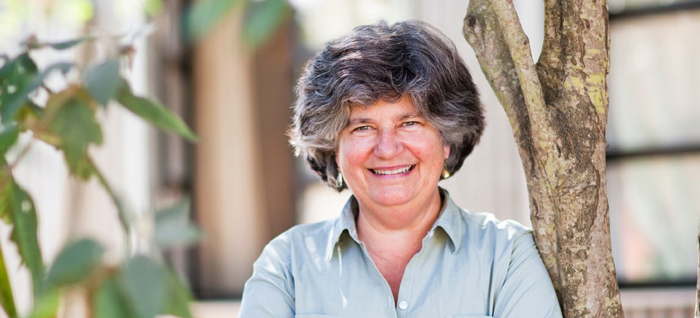 We are so pleased to welcome Sue Conley to the Mesa Refuge Board of Directors. Sue founded Cowgirl Creamery and Tomales Bay Foods in 1997 with her long time friend, Peggy Smith. Their mission has been to make delicious certified organic cheese while providing sales and marketing support to fellow artisan cheesemakers.
"Sue is one of the most effective women leaders I know," Mesa Refuge Executive Director Susan Page Tillett said. "She grew a small, local business into a multimillion dollar concern, never losing sight of her connection to the land and the people."
Founder Peter Barnes gives credit to Sue for introducing him to the property that would become the Mesa Refuge. "Sue is the reason the Mesa Refuge is here in the first place," he said."Back in the 1990s, she and her partner Nan owned and lived at #7 Los Reyes Drive, now co-owned by our board member Sam Lawson. She tipped me off to the availability of #9, which I bought for my house, and eventually led to my purchase and donation of #11, the Mesa Refuge. In other words, she has a long historical connection to this beautiful spot," he said. In addition, Mesa Refuge residents have been enjoying the healthy and delicious food from Tomales Bay Foods kitchen for 20 years!
In her other, varied work in West Marin, Sue is active in promoting agricultural stewardship as evident in her 18 years as a board member at the Marin Agricultural Land Trust. She was also a founding board member of Marin Organic and currently serves on the board of The California Artisan Cheese Guild and the NASDAQ Entrepreneurial Center. Find out more about Sue and all of our board and advisory members here.