Anna Lappé
Alum 2000, Alum 2004, Board of Directors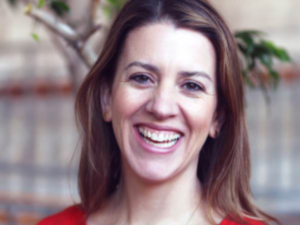 As an alum, Anna is delighted to bring her expertise in food systems and communications to the Mesa Refuge. She is native of the San Francisco Bay Area who recently moved home with her young family after 17 years on the east coast. She is an active board member of the Rainforest Action Network and 2016 recipient of the James Beard Leadership Award.
Anna is the co-founder with her mother, Frances Moore Lappé, of the Small Planet Institute and Small Planet Fund, which has raised and given away more than $1 million since its founding in 2002. Anna is the author or co-author of three books and the contributing author to 10 others—two of which she worked on during stays at the Mesa Refuge. Her most recent book, Diet for a Hot Planet: The Climate Crisis at the End of Your Fork and What You Can Do About It, is about the connections between food systems and climate change.
Several years ago, Anna brought together a coalition of leading food and farm organizations around the country to launch the Real Food Media Project, which runs creative communications campaigns to spread the story of sustainable food and farming. It's currently running the nation's first-ever short films competition on food and farming and the Food MythBusters series.
]
Books written at Mesa Refuge
The Mesa Refuge
PO Box 1389
Point Reyes Station, CA 94956