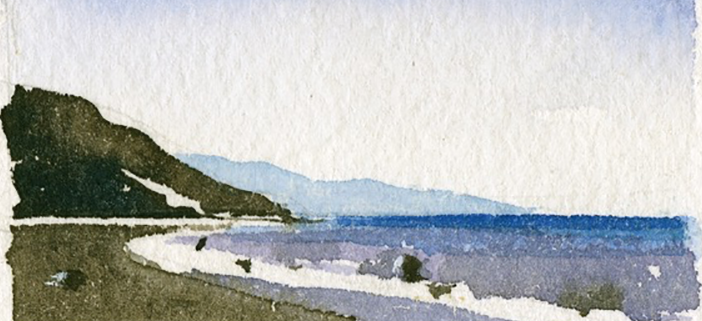 The Artist's Eye, The Writer's Voice
Past Event
January 27,2018
Writing Our Way Home
The third annual winter writers' retreat led by:
Author Elizabeth Fishel
Mesa Refuge Executive Director Susan Tillett
West Marin artist and Local Color Author Mimi Robinson
WHEN:  Saturday, January 27th from 10:30 am-4:30 pm and
Sunday, January 28th from 10 am-12:30 pm
WHO:  Writers and artists, women and men of all experience are welcome as well as interested fellow travelers.
COST:  $195 for the weekend. Drinks and snacks provided both days and a light breakfast on Sunday. Lunch on Saturday from Cowgirl Creamery is available for $12.  If space permits, a limited number of spots may be available to attend Saturday only ($145). There will be an optional pizza dinner at Cafe Reyes in Pt. Reyes Station on Saturday night.
REGISTRATION: contact Elizabeth at erfishel@gmail.com
***
Join us for an inspirational and idea-filled winter writers' retreat that mixes writing, art, observing place, and thinking about what makes home.  This one-and-a-half day workshop meets in a setting of unparalleled beauty, calm, and coziness overlooking Tomales Bay. Originally the home of abstract artist Sam Francis, The Mesa Refuge glows with bright colors and creative energy that will inspire fresh words and images.
The weekend will combine guided writing activities, lively discussion, sharing work, supportive coaching, and an artist's talk to deepen and enliven your writing voice.  We will weave together observations and exercises about writing and art to enhance your perceptions of both inner and outer landscapes and sharpen your eye for the details, colors, and images of place.  This year's theme, "Writing Our Way Home," will invite thinking about the many-layered meanings of home.  We'll write inside by the fireplace, and weather permitting, walk and write "en plein air" as well.
Mimi Robinson will host us in her nearby studio for a session on local color on Saturday afternoon, and on Sunday morning, Susan Page Tillet will lead a session on the house as a symbol of the self, drawing on her extensive background in Feng Shui.
About the workshop leaders
Elizabeth Fishel has led numerous writing workshops at UC Berkeley, UC Santa Cruz, and privately in Oakland and West Marin.  She's the author or co-author of five nonfiction books including Sisters, Reunion, and Getting To 30.  She is working on a book about creativity and home in the second half of life called Home At Last:  Wharton's Garden, Vita's Tower, Allende's House of the Spirits and Other Domestic Reinventions. Find out more on her website.
Susan Page Tillett is the Executive Director of The Mesa Refuge, the author of The Ragdale House Speaks and What's To Wear, Beatrice Bird? and has offered many workshops on the language of color.
Mimi Robinson is an artist, designer, and educator.  Her watercolors are inspired by the West Marin landscape as well as her travels around the world working with artisan communities.  Her book, Local Color, vividly captures her method of working with the elements of place–habitat, light, weather, and season. Find out more on her website.
Lodging
There are three beautiful rooms available at the Mesa Refuge to rent this weekend.  Each has a queen-size bed, amazing views, and ample space for writing (two come with a separate writer's shed).  You can have the room to yourself, bring a partner, or share with another writer (air mattresses are available).
The Mesa requires rooms to be rented for 2 nights (Friday/Saturday) for $200/night ($400 for the weekend).
Other Details
You can arrive on Friday at 3 pm and use the extra time and space for your own work until we meet as a group on Saturday morning.  There's also a big eat-in kitchen, comfy, book-lined living room, sauna, and ping pong table, and decks and gardens galore.  This place is heaven on earth for writers!
A list of other overnight lodging suggestions in Point Reyes and Inverness is also available on request.
Location
Mesa Refuge
11 Los Reyes
Point Reyes Station, CA 94956