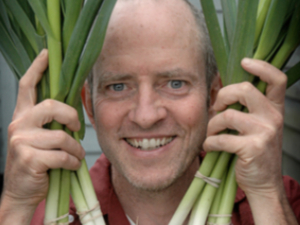 Tom is the food and agriculture blogger for Mother Jones Magazine. He served as a columnist, food editor and senior food writer for the online environmental site Grist. He's a cofounder of Maverick Farms, a center for sustainable food education in Valle Crucis, North Carolina. His work on food politics has appeared in Newsweek, Gastronomica, and the Guardian. Maverick Farms has been featured in Gourmet and the New York Times, and in September 2008, Food & Wine named Philpott one of "ten innovators" who "will continue to shape the culinary consciousness of our country for the next 30 years."
In 2011, he was a finalist for a James Beard Foundation Journalism Award—the "Oscars of the food world," as Time put it—in the "Food-Related Columns and Commentary" category.
While at the Mesa Refuge, Tom worked on a book that teases out just how much Americans have come to rely on California's farms to fill plates, shows why that reliance is likely to become increasingly troublesome, and examines efforts to redistribute fruit and vegetable production in other regions.
The Mesa Refuge
PO Box 1389
Point Reyes Station, CA 94956