Malcolm Margolin
Advisory Committee, Alum 2017
Invitational Fellow, 2017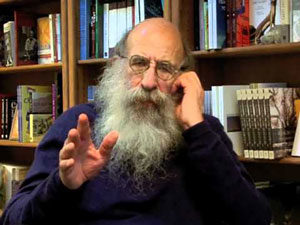 Malcolm is an author, publisher, and the founder and founder of Heyday Books, an independent nonprofit publisher and cultural institution in Berkeley, California. In 1974 Margolin founded Heyday with the publication of his book The East Bay Out, a guide to the East Bay Regional Parks.
Margolin is the author/editor of eight books including The Ohlone Way: Indian Life in the San Francisco-Monterey Bay Area, named by the San Francisco Chronicle as one of the hundred most important books of the twentieth century by a western writer. His essays and articles have appeared in a number of periodicals including The Nation, Small Press, National Parks, the San Francisco Chronicle, and the Los Angeles Times.
He has received dozens of prestigious honors including Lifetime Achievement Awards from the San Francisco Bay Area Book Reviewers Association and the California Studies Association, a Community Leadership Award from the San Francisco Foundation, and a Cultural Freedom Award[2] from the Lannan Foundation. In 2012 he received the chairman's Commendation from the National Endowment for the Humanities,[3] the second person in the United States to be so honored.
Margolin has taught publishing courses at University of California Extension, Berkeley, and has served as advisor and mentor to many other publishers. He has lectured at dozens of universities and colleges throughout California including Stanford University and UC Berkeley, at libraries and bookstores, and at other venues.
In 2001, he co-founded Bay Nature, a nonprofit quarterly magazine focused on the natural world of the San Francisco Bay Area, and for a time served on its board of directors. He has also served on the boards of the Yosemite Association, Alliance for California Traditional Arts, and the Publication Committee of U.C. Berkeley's Bancroft Library.
Margolin was born in Boston on October 27, 1940, and graduated with a degree in literature from Harvard University in 1964.
The Mesa Refuge
PO Box 1389
Point Reyes Station, CA 94956