Harriet Barlow
Board of Directors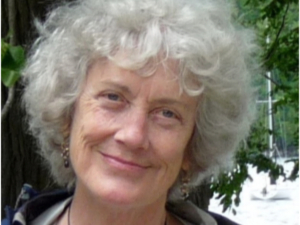 Harriet is the director of the Blue Mountain Center, a retreat center for cultural workers in upstate New York. She is also the director of the HKH Foundation, based in New York City, an environmental and social justice philanthropy. Harriet is the founder or co-founder of 14 not-for-profit organizations and has served on the board of directors of more than 50 NGOs.
Blue Mountain Center is happy to claim a slice of the DNA of Mesa Refuge since it was during Peter Barnes's residency there that the bee that pollinated the Mesa Refuge first entered his fertile and determined mind. The Mesa Refuge and Point Reyes are polar pulls for Harriet and for her husband, David Morris.
Harriet thinks of herself as a Commoner, a cultural worker and a lover of all things bright and beautiful—and quiet. Her personal and political lives have been closely intertwined. Since 1982, the center of her gravity has been the Blue Mountain Center, a working place for activists and artists that is located in the Adirondack Mountains in upstate New York.
The Mesa Refuge
PO Box 1389
Point Reyes Station, CA 94956