Frances Moore Lappé
Alum 2006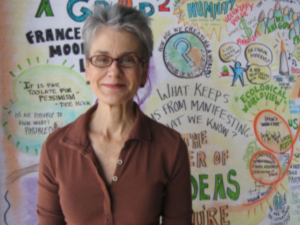 Frances Moore Lappé is the author or co-author of 19 books including the three-million copy Diet for a Small Planet. Frances was named by Gourmet Magazine as one of 25 people (including Thomas Jefferson, Upton Sinclair, and Julia Child), whose work has changed the way America eats. Her most recent work is World Hunger:10 Myths which she and co-author Joseph Collins just submitted to Grove Atlantic Press for print this September. She is the cofounder of three organizations, including Oakland based think tank Food First and, more recently, the Small Planet Institute which she leads with her daughter Anna Lappé. Frances and her daughter have also cofounded the Small Planet Fund, which channels resources to democratic social movements worldwide.
In 1987 Frances received the Right Livelihood Award (considered an "Alternative Nobel") "for revealing the political and economic causes of world hunger and how citizens can help to remedy them." Her first book, Diet for a Small Planet, has sold three million copies and is considered "the blueprint for eating with a small carbon footprint since long before the term was coined," wrote J.M. Hirsch, Associated Press.
Previous to EcoMind, Frances released Getting a Grip 2: Clarity, Creativity and Courage for the World We Really Want, a thorough revision of Getting a Grip: Clarity, Creativity, and Courage in a World Gone Mad, which received the Nautilus Gold/"Best in Small Press" award. In 2008, Getting a Grip along with Diet for a Small Planet were designated as "must reads" for the next U.S. president (by Barbara Kingsolver and Michael Pollan, respectively) in The New York Times Sunday Review of Books. Other recent books include Hope's Edge (written with Anna Lappé), Democracy's Edge, and You Have the Power: Choosing Courage in a Culture of Fear. Lappé's books have been translated into 15 languages and are used widely in university courses.
Frances appears frequently as a public speaker and on radio, and is a regular contributor to Huffington Post and Alternet. She is also a contributing editor at Yes! Magazine and Solutions Journal. Articles featuring or written by Frances have also appeared in O: The Oprah Magazine, Harper's, The New York Times, The Los Angeles Times, The Nation, People, and more.
Books written at Mesa Refuge
The Mesa Refuge
PO Box 1389
Point Reyes Station, CA 94956